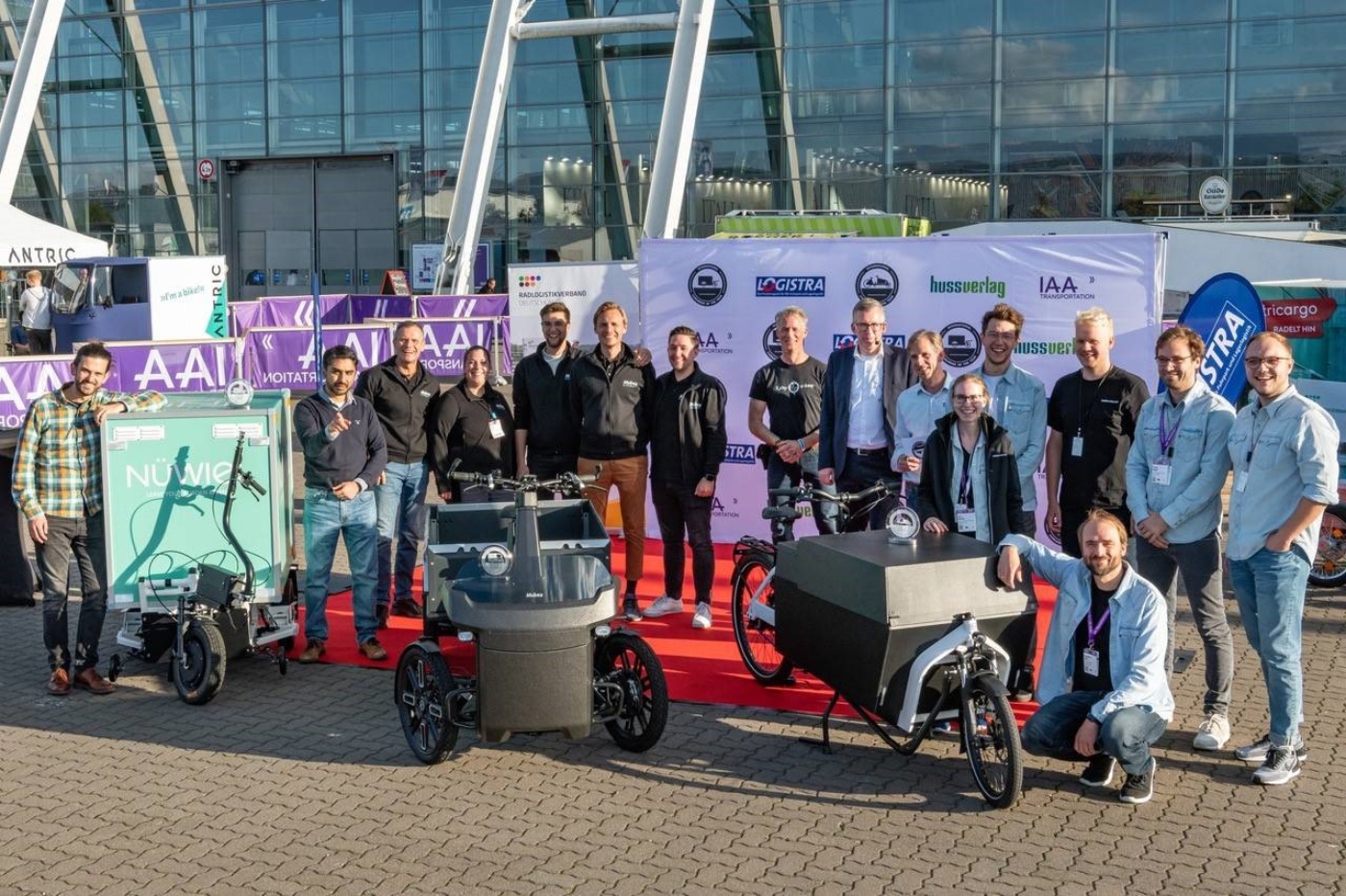 News
These are the international Cargobikes of the Year 2022
Big station for the bikes: The awards for the best cargo bike innovations were presented at the IAA TRANSPORTATION. | Photo: VDA
Big station for the bikes: The awards for the best cargo bike innovations were presented at the IAA TRANSPORTATION. | Photo: VDA
After an intensive test on the cargo bike course at the IAA TRANSPORTATION in Hanover, the manufacturers Mubea with the Cargo, Riese & Müller with the Transporter2 and Nüwiel eTrailer swept the prizes for the "International Cargobike of the Year 2022". When presenting the awards, VDA Managing Director Jürgen Mindel emphasized that cargo bikes play a very important role in the transport chain on the way to climate-neutral logistics. He therefore expressly welcomed the industry and its innovative products to the trade fair and invited participants to be present again in Hanover in 2024.
The VDA was also a partner, in cooperation with the Radlogistik-Verband Deutschland (RLVD), of the Lastenradpreis, which had been initiated by trade magazine LOGISTRA from HUSS-VERLAG in 2019. In addition to the parcours, the IAA had also taken the topic into account with a Last Mile Area, where various cargo bike manufacturers showed their presence.
The winners were delighted with the awards, which were presented by VDA Managing Director Jürgen Mindel. | Photo: VDA
Many of the cargo bike manufacturers were also participants in the 3rd National Cycle Logistics Conference in Hanover, which took place parallel to the IAA TRANSPORTATION, in order to take part in the competition at the trade fair. RLVD board member and juror Martin Schmidt emphasized the contribution that cargo bikes could make to the fabric of urban logistics, not in competition, but as an intelligent, climate-friendly, high-performance and space-saving complement to vans and trucks. He added that the aim was to work together with all those involved in the transport chain to make logistics more environmentally friendly.
The award went into the new round with a record participation of 27 candidates, which underlines the high development speed and the innovative spirit of the young industry, as LOGISTRA Head of Department Test+Technik and initiator of the award Johannes Reichel emphasized at the award ceremony. The selection, which was made by a jury of practitioners and specialists, was correspondingly difficult. In addition to LOGISTRA editor Reichel, the jury included wheel logistics specialist Thomas Schmitz from the company Radlader in Mainz, wheel logistics specialist Martin Schmidt from Cycle Logistics in Berlin, and cargo bike design specialist Satish Kumar Beella from the Hague University of Applied Sciences.
The winners in the individual classes:
Light Cargobikes
Riese & Müller Transporter2
Urban Mobility Craft L
Gleam Escape
Heavy Cargobikes
mubea cargo
tricargo loadmaster
rytle MovR3
Bike trailers:
nüwiel eTrailer
wupdi
carla Cargo