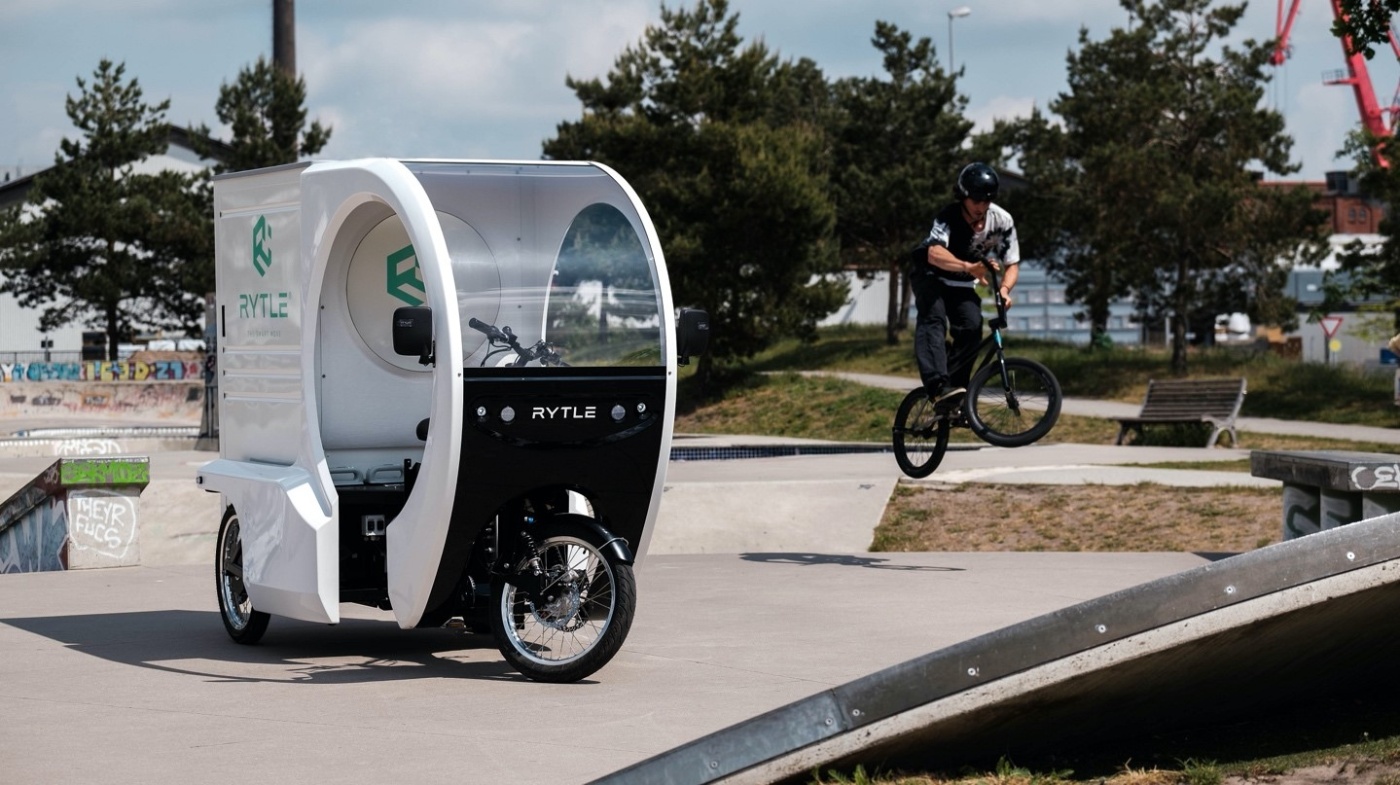 News
IAA Voices: Interview RYTLE
Picture: RYTLE's latest model, the MovR3, will be presented at the IAA TRANSPORTATION.
Picture: RYTLE's latest model, the MovR3, will be presented at the IAA TRANSPORTATION.
RYTLE GmbH was founded in 2017 with the aim of revolutionizing city logistics. The joint venture of Krone Commercial Vehicle Group and the strategic consultancy Orbitak combines many years of experience in the logistics industry with expert knowledge in the fields of cargo bikes, automotive and IT. The start-up offers different types of e-cargo bikes as well as integrated solutions that are already in use worldwide. They can be used to save costs in the last mile and transport goods of all kinds with virtually no emissions - efficiently, punctually, quietly, stress-free, ergonomically, flexibly and transparently.
Interviewees: Nils Oetjen (NO), Head of Sales, and Johannes F. D. Hill (JH), Head of Global Business Development
Johannes F. D. Hill, Head of Global Business Development RYTLE GmbH
What does Rytle stand for and what should every IAA visitor know about the company?
JH: The start-up RYTLE GmbH is revolutionizing city logistics with a range of electric-powered cargo bikes. These provide a sustainable transport alternative in urban areas, from letter delivery to medicine and parcel delivery, including branch deliveries, to general cargo transport on a Euro pallet. The focus is on the holistic, networked transport concept created by experts. It combines a mobile microdepot, an e-cargo bike - the RYTLE MovR - with exchange function for standardized transport boxes and also Euro pallets, and smart software. The Cargo Bikes and complete solutions are already in use worldwide. The product range offers an economical, ecological and efficient way of inner-city transport, optimizing the last meters.
What is the company's most important project for 2022/23?
NO: The first generation of the RYTLE MovR e-cargo bike was launched back in 2017 and has been evolved and optimized over the years according to the specifications and needs of our customers. At IAA TRANSPORTATION, the latest generation, the RYTLE MovR3, will be presented. The fairing has received a stylish remake, which serves the protection and comfort of driver:inside and is also easily repairable. The fully suspended vehicle provides a smoother ride and an increase in safety and agility as well as the access from both sides. Motorcycle components increase robustness and prevent failures. The LED lights and four turn signals, two of which are integrated into the exterior mirrors, provide additional new functionalities that contribute to safety.
JH: The patented loading bay in the rear with the electrically operated pallet fork opens up space for modularity: both an interchangeable box with 1.8 cubic meters on rollers can be accommodated by the RYTLE MovR as well as the standard Euro pallet. A total load of 365 kg is possible. The interchangeable box fits into the standard dimensions of the container industry by taking standard logistic dimensions into account in the design. In combination with a mobile micro depot and smart software, RYTLE pushes the holistic approach via the integrated transport solution.
Nils Oetjen, Head of Sales RYTLE GmbH
The newly designed IAA TRANSPORTATION is a platform and meeting place for transport and logistics companies from all over the world. What makes the trade show so appealing to you?
JH: Transport logistics is a sufficient enabler in achieving climate targets. That's why the IAA TRANSPORTATION is more than just a platform for concentrated information on innovations and trends. The players must work together to increase transport performance while at the same time reducing emissions. All participants will have the opportunity for networking and cooperation.
NO: We are pleased to give our existing and new customers the opportunity to get in direct contact with our optimized e-cargo bikes and transport concepts. RYTLE will present itself at three booths. The course area in particular is ideal for live testing.
What can IAA visitors particularly look forward to at your stand?
NO: At our main booth D06 in Hall 13, we will be presenting the range and competencies surrounding our e-cargo bikes. Our experts will be happy to take the time to address customers' individual needs. Those who want to get in the saddle themselves will have the opportunity to test the RYTLE MovR3 and TriLiner on the course.
Our newly launched RYTLE MovR 3 will also be on display at the booth of our shareholder Krone Commercial Vehicle Group.
The coming years are all about transformation. Where will the transport and logistics industry be in 2030 - and what milestones do you want to have achieved by then?
JH: Mobility is on the verge of a general revolution. For urban areas, it can be assumed that in the coming years the internal combustion engine will be subject to step-by-step charges and bans in inner cities, as is already being practiced in some cases in metropolises around the world. Alternative transport concepts, including those based on electricity, with a good ratio of energy input to result are in focus. Electrified cargo bikes offer this sustainable potential. However, isolated components such as e-cargo bikes, transport containers, microdeposits or software will not achieve their goals. Instead, the optimal solution lies in the networking and perfect coordination of all these components. More than ever, we will operate in integrated concepts in order to handle the complexity of inner-city logistics in an environmentally compatible and efficient manner.
In our opinion, standardization is an indispensable parameter for achieving this goal. This refers to the consistent consideration of relevant logistical dimensions in the design and the transport chain. With adaptation by suppliers and users alike, cross-company synergy effects can be achieved.
The demand for flexible systems is also gaining in importance and is anchored in our development strategy. In addition to an interchangeable box on its own rollers, our electrically rubbed lifting fork can also accommodate the standard Euro pallet, and we are working on other interesting modular load carriers.
NO: At RYTLE, we have been thinking about the overall concept with interchangeable boxes on rollers, taking container dimensions into account, since the company was founded five years ago. This original vision is consistently implemented in our solution concepts and offers our customers a real benefit. Thinking in terms of transport concepts also integrates the upstream supply chain. It is important to analyze the upstream handling processes in order to be able to create a seamless transition, such as from micro-fulfillment centers. This results in new application areas that pose a real challenge, such as the simultaneous delivery of ambient, chilled and frozen.