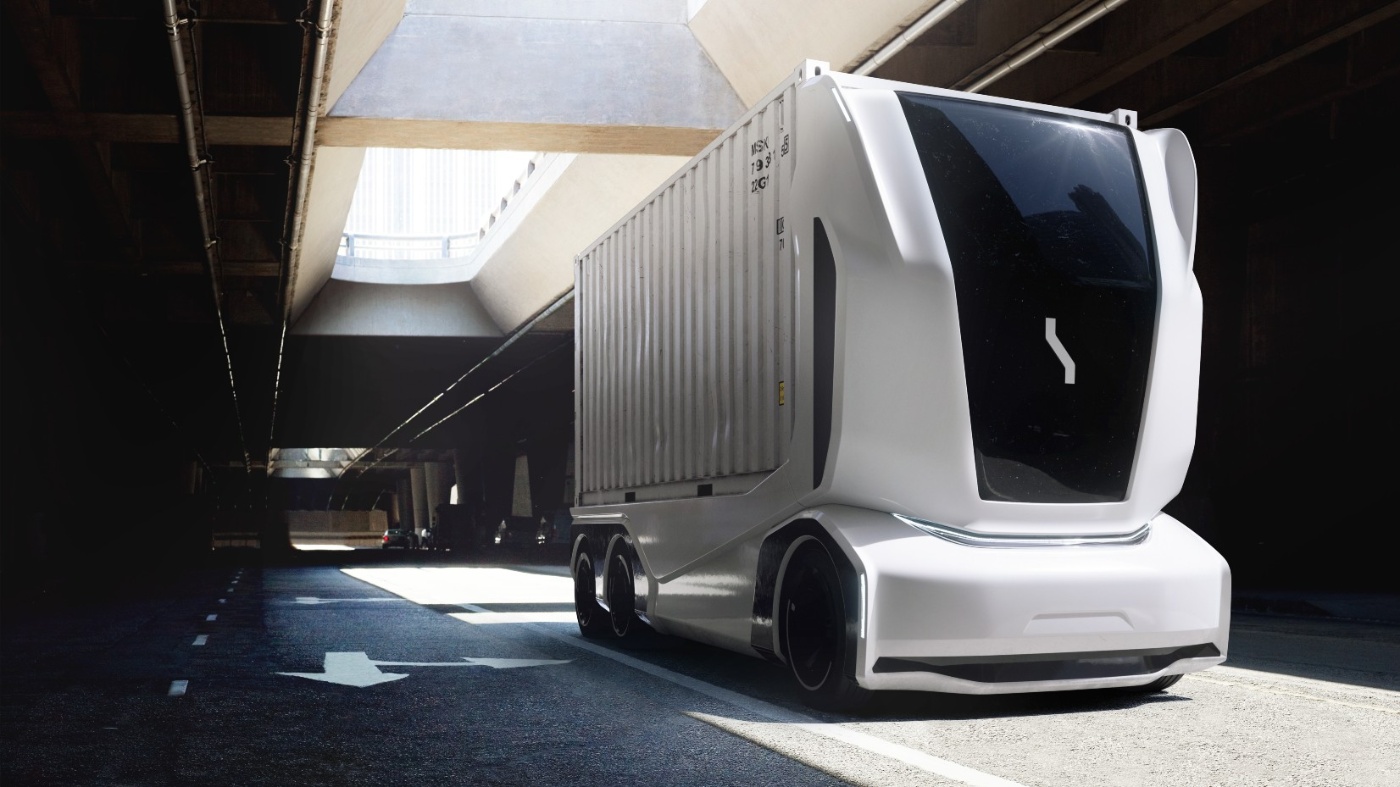 News
Driverless to the destination
Autonomous vehicles are the future – including in freight transport. And the technological development for it is picking up speed. Here's what has happened in recent years, and what's to come.
Goods covering their route from A to B in record time, because they are on the move without a driver and the specified rest periods therefore no longer apply – that could soon become a reality for many logistics companies. It would be a major step in mastering the growing mail-order business, which is presenting the sector with major challenges and putting supply chains to the test. In 2021, sales in B2C e-commerce in Germany totaled EUR 86.7 billion – an increase on the previous year of around 19 percent.
While autonomous flexible transport systems (FTS) are already standard in many places in the Smart Factory of Industry 4.0 and on rail, Level 5 autonomous driving – i.e., fully-automated driving without a person steering the vehicle – in road traffic is still in the test phase. But the potential for the logistics sector is massive. That's something companies like Amazon have recognized: The world's biggest online retailer is currently expanding its know-how in the area of autonomous driving, and in 2021 ordered at least 1,000 systems for automating conventional semitrailer trucks.
Shorter travel times, better climate balance sheet
A study by Strategy& agrees with Amazon: By 2030, digitalization and automation of processes and delivery vehicles will cut logistics costs for standardized transports by almost half (47 percent). There are various reasons for this: First and foremost, autonomous trucks can deliver round the clock – meaning more goods in shorter time, while cutting diesel consumption and CO2 emissions. In addition, no costs are incurred for drivers and cabs. Further benefits: Self-driving trucks lower the risk of accidents, reduce traffic jams thanks to digital planning tools, and provide an answer to the threatening shortage of drivers. According to the German Association for Road Haulage and Logistics (Bundesverband Güterkraftverkehr und Logistik, BGL) there was already a shortfall of 60,000 to 80,000 professional drivers in 2021, with the trend on the up.
While public acceptance of self-driving cars has not yet arrived, trials using trucks are already taking autonomous driving forward. In Nevada (USA) in 2015, the Daimler subsidiary Freightliner unveiled the Inspiration Truck, the world's first autonomous truck to be licensed for road use – albeit still with a driver on board. The truck is based on the US serial model Freightliner Cascadia, which is additionally fitted with "Highway Pilot technology" that can be switched on by the driver on the highway. Currently, Daimler Truck is collaborating with the Google subsidiary Waymo and the US start-up Torc Robotics to push forward development for Level 4 systems (fully-automated, with driver).
Taking autonomous driving to the streets together
MAN Truck & Bus has set itself ambitious targets. By 2025, the manufacturer is aiming to launch driverless trucks. By 2030, MAN is planning to implement self-driving trucks as series solutions. To that end, one initiative the company took was to start the research project ATLAS-L4 – a cooperation of various companies with the Fraunhofer Institute for Applied and Integrated Security (AISEC) and the Technical Universities in Munich and Braunschweig. Dr. Frederik Zohm, Executive Board member for Research and Development at MAN Truck & Bus: "For MAN, ATLAS-L4 is a major step on the way to hub-to-hub automation, and with it we are already looking at future series applications for Logistics 4.0."
MAN Truck & Bus was also involved in a three-year trial in the Port of Hamburg which was concluded successfully in 2021: In the HamburgTruckPilot project, the trial involved not just driving the prototype truck autonomously, but also loading and unloading – as the port handling authority Hamburger Hafen und Logistik AG (HHLA) and MAN Truck & Bus put it, a milestone in automated container transport.
Hamburg TruckPilot: Hamburger Hafen und Logistik AG (HHLA) and MAN Truck & Bus are developing and testing automated trucks for use in hub-to-hub container traffic Image: HHLA / Thies Rätzke
In 2019, an electric-powered driverless truck from Einride hit the headlines. That vehicle, with its futuristic design, was the T-Pod, sent on the roads in Sweden by the Swedish start-up jointly with DB Schenker – in a world first at that time. In May this year, Einride unveiled a compatible trailer. The semi-trailer, with a 320 kWh battery, can be combined with various e-trucks – whether with an on-board driver or not. The aerodynamic trailer is connected seamlessly with the truck via a digital platform, to provide freight carriers with AI-based insights such as real-time data on capacity utilization or freight monitoring. The pilot phase starts at the end of 2023.
Testing is also underway at TRATON: The Volkswagen subsidiary's Scania trucks are rolling in Sweden over a 300-km long route, autonomously and with a safety driver on board. Further test runs are planned for Germany. At Volvo, there has been a separate business division for electric and autonomous trucks since 2020, aimed primarily at shaking up the American market.
Networked autonomous vehicles
Another initiative in relation to autonomous driving that Volvo is also pursuing is platooning. Using digital driver assistance and steering systems, several trucks ride in line, to save fuel and lighten the burden on the driver. A pilot project by MAN Truck & Bus, DB Schenker and Hochschule Fresenius University of Applied Sciences in 2019 shows that platooning meets expectations: Two connected trucks operated reliably for seven months, running on the A9 between Munich and Nuremberg. They covered a total of 35,000 kilometers, and the drivers only needed to intervene once per 2,000 kilometers during these runs. According to DB Schenker, around 40 percent of the transport kilometers driven in Europe would be suitable for platoon trips. This would ensure even more reliable and more efficient transport.
As yet, fully driverless travel on our roads is a thing of the future. However, the assumption by the experts is that the commercial vehicle sector will manage the shift from Level 2 (part-automated, with human driver assistance) to Level 4 (fully-automated) by 2025. Beyond that, it is not far to driverless driving.